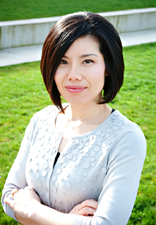 Originally a native of South Korea, Hyejung began her tutoring in oriental medicine at a very early age as an apprentice of her uncle, Dr. Choi Gui-Ho, a doctor of oriental medicine practicing in Seoul, South Korea. Years later, after emigrating to the United States, Hyejung graduated with honors from the Northwest Institute of Acupuncture and Oriental Medicine in Seattle, where she earned a master's degree in acupuncture and oriental medicine in 2002.
Since then, she has practiced in the Northgate area serving Seattle, North Seattle,Shoreline, Fremont, Ballard, Edmonds and beyond.
Hyejung has a passion for helping people to live a spiritually-connected, emotionally-balanced and physically thriving life. Hyejung has helped thousands of patients with a variety of acute or chronic health issues, ranging from painful conditions such as arthritis, sports injuries, anxiety, addictions, digestive disorders and stress.
Through successfully treating many patients, Hyejung has come to realize that acupuncture offers so much more than just short-term pain relief. Acupuncture has the unique ability to balance one's life in a variety of ways, by improving sleep, lowering stress levels, improving digestion and otherwise boosting patient vitality.
Hyejung's approach to healing is to empower her clients to take an active role in their healing, not only through acupuncture and Chinese herbal medicine, but also by offering nutrition and lifestyle coaching. She focuses on treating the whole person, not just their symptoms and is deeply interested in the connection between mind and body. She has witnessed time and again the innate healing power that each person has, and the amazing effect that acupuncture has to activate this power within her patients.
Hyejung is a Washington State-licensed acupuncturist and herbalist and a NCCAOM board certified and licensed acupuncturist.
What sets the Seattle Acupuncture Wellness Center apart from other Chinese medical providers?
All treatment takes place in our very modern and inviting wellness center, in a relaxing and soothing setting.
Hyejung brings an authentic and traditional way of healing through her background as an apprentice of many teachers, including her uncle Dr. Gui-ho Choi, and also Drs. The-Fu Tan and Wei-Yen Chiang, who taught her the Balance Method of acupuncture and pulse diagnosis.
A comprehensive diagnosis is clearly communicated to every patient.
We take our time with you. Ninety minutes for your first visit and forty-five minute follow-up visits are typical.
We educate patients about imbalances in their health, and how they can be healed according to oriental medical principles.
All of our herbs are GMP Certified, safe and effective.
Your treatment is personally tailored to your needs. Many acupuncturists use the same protocols on all of their patients. At Seattle Acupuncture Wellness Center, your treatment specifically reflects your unique and individual needs.
Evening and Saturday appointments are available.
We love what we do and are devoted to top quality patient care.
Seattle Acupuncture Wellness Center Video Part 2 from Croquet Creative Client Videos on Vimeo.
Serving Seattle, North Seattle, Northgate, Shoreline, Fremont, Ballard, Edmonds and the Greater Puget Sound, since 2003. We are never too busy to help you!